9585 Silverdale Loop Road NW, Silverdale WA – For Sale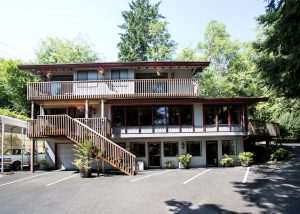 CBA #601753
NWMLS #1351555
Entrepreneur's delight for home & business, convenient to Silverdale! Rare 4,612 SF building (4,054 SF total finished) with creek view includes 2 large rooms, half bath with w/d hookup, work area, shop/garage on lower level (1,560 SF) approved non-conforming commercial use on UR zoning for Class B Personal Services space. Only 0.2 miles to CKHS and 0.9 miles to Kitsap Mall. Located on private 0.99 acres with 4 BR septic. Lots of configurations possible in 3 story 3 BR with master suite on the main, formal & eat in kitchen with vaulted ceilings. Upper level has kitchenette.Each floor has ground access, furnace, w/d hookups. Paved parking est 14 spaces. Includes tax #172501-4-070-20-04 @ 19,166 SF, both total 0.99 acres. Picnic deck/horseshoe court by creek. Covered RV parking/septic hookup.
7625 Central Valley Rd NE, Bremerton, WA- Church For Sale
CBA #597706
NWMLS Listing #1293645
2.19 acre single story church built in 1981 with 200+ seating sanctuary, multiple large rooms, offices, conference room. Excellent location on corner of Central Valley Rd & Fairgrounds, approx. 70+ paved parking spaces, kitchen, security, storage. Zoning: Urban Low Residential (5-9 Units/Acre) with non-conforming use for church. Gravity septic. Sewer available in street. Possible use for multi-family, recreational, civic/social club, daycare, adult family care. Buyer to verify use with county.
7625 Central Valley Photo_Gallery3673
3050 Northlake Way, Bremerton, WA – Mini-Storage For Sale
NWMLS # 1292856
CBA #245267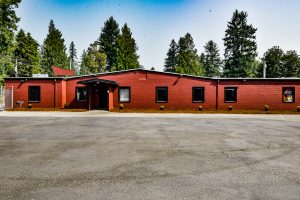 Zoned Rural Commercial. Lots of possible uses. Northlake Storage is a work in progress remodel with huge potential. New fencing with security gate, large paved parking. Call LA for design plans. Close to Hwy 3 freeway ramps. Great location for nursery, construction office with yard storage. Includes tax #9000-001-400-0005. 3 BD 2 BA, 1,632sf Mobile home rents @ $800/month w/1 yr lease.